Brand New Camera Gear Store
Buy With

100% Risk-Free!

We Will Full Refund You If You Are Unhappy With Your Purchase!
Sirui W-2004+K20 Ocean Runner Tripod Kit 
Product Description:

The Sirui W-2004K20 Ocean Runner Tripod Kit features waterproof sealed legs that may be submerged in water without causing damage. Furthermore, one of the tripod's legs can be removed, transforming the tripod into a watertight monopod. The accompanying ball head is Arca-Type compatible and CNC manufactured from aluminum alloy. This package is great for photographers who are regularly shooting in the outdoors.Sirui's W-2004 Waterproof Aluminum Alloy Tripod has a Waterproof Sealing System that keeps water, dust, and other debris out of the leg tubes. The tripod can reach a maximum height of 70.9 inches "It weighs 4.6 pounds and can handle up to 39.7 pounds. Most ball heads have reverse-folding legs that allow the tripod to fold down to 20.5 inches ". Individually adjustable 4-section legs are secured in position with twist locks. One of the legs can be removed and joined to the middle column to create a full-sized 69.7-inch table "monopod. The tripod can be stabilized on a variety of surfaces by replacing the replaceable rubber feet with stainless-steel spikes. The tripod's minimum height is 6.1 inches thanks to the split center column "The center column has a ballast hook that can accommodate a stabilizing weight.The Sirui K-20x Ball Head is a strong head featuring pan, tilt, and tension control knobs, as well as an Arca-type clamp for the supplied quick release plate. The tension knob is built into the ball-locking (tilt) knob, while the pan, tilt, and quick release knobs are all independent. For portrait position, the head tilts 90 degrees. The K-20x head's interior ball locking has a sphere tolerance of 0.01mm and comes with an orientation-memory locking dial. This contributes to the 55-pound load capacity. The rapid release clamp has a secondary release mechanism that prevents the camera/plate from accidentally disengaging from the clamp, enhancing the head's overall security and stability. Because the Arca-type platform has standard dimensions, you can utilize plates from various manufacturers. The three control knobs enable photographers to fine-tune the position of their camera, whether it's a DSLR, 35mm, medium-format camera, or even a camcorder. For panoramic photography, the pan can be changed while the tilt remains fixed, allowing for accurate and measurable movement - there are degree marks at the panning base. The K-20x is made of aircraft-grade aluminum alloy and is anodized with an oxidation process for a long-lasting, high-quality finish. Quick-release clamp in the Arca style with a secondary safety lockIn either portrait or landscape position, two bubble levels (horizontal and vertical) on the quick-release platform ensure that your framing hews to the horizon. The friction-control knob, which is included within the ball-locking knob, allows the operator to modify the ball's movement resistance.The aluminum alloy quick release plate has a rubberized surface. Camera screw made of stainless steel

Specification:
Load Capacity: 39.7 lb
Maximum Height: 70.9"
Minimum Height: 6.1"
Folded Length: 20.5"
Leg Sections: 4
Weight: 4.6 lb
Waterproof, Sealed-leg design
Leg Converts into Waterproof Monopod
Arca-Type Compatible Ball Head
Tension Control with Main and Pan Locks
If you have a problem or question regarding your transaction please contact us before leaving any type of feedback. We will work with you to resolve any problem you may have.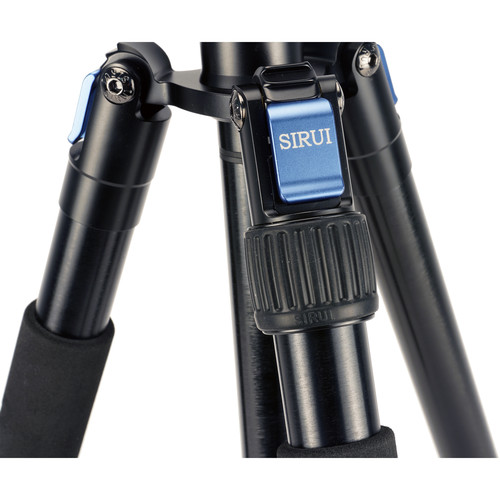 Recommended for the Sirui W-2004+K20 Ocean Runner Tripod Kit
Product title
$ 19.99 | $ 24.99
Vendor
Product title
$ 19.99 | $ 24.99
Vendor
Product title
$ 19.99 | $ 24.99
Vendor
Product title
$ 19.99 | $ 24.99
Vendor
Need Help while ordering?