Brand New Camera Gear Store
Buy With

100% Risk-Free!

We Will Full Refund You If You Are Unhappy With Your Purchase!
SIRUI MARS 1.33x Anamorphic Lens Set for Micro 4/3
Product Description:

The NEW Sirui Mars 1.33x Anamorphic Lens Set for Micro 4/3 mount is a sharp and fast anamorphic lens set that will give your videos a cinematic touch. The four supplied lenses, 24mm, 35mm, 50mm, and 75mm, cover a wide variety of focal lengths for maximum versatility. The lens' 1.33x Ratio makes full advantage of the 16:9 sensor crop that these cameras shoot video in, resulting in a 2.4:1 aspect ratio that is familiar with theater movie experiences.The lens kit employs an optically distorting anamorphic front element that compresses the horizontal axis of the shot by 1.33 times, allowing more data to be packed onto the sensor. When compared to a typical aspherical lens, this is then stretched out in post-production or in-camera (see manufacturer specs for compatibility).Flares are wonderfully reproduced by the lens kit, and the lens' coatings prevent them from covering the entire picture. The fast T2 to T2.9 aperture generates a very shallow depth of focus, which increases the oval-shaped bokeh effect seen in anamorphic lenses. One of the numerous advantages of a true anamorphic lens over its filter cousins or digital crop bars that approximate the anamorphic 'look' is the soft out of focus area.1.33x SIRUI MARS Anamorphic Lens The set includes four focal lengths: 24mm, 35mm, 50mm, and 75mm, allowing you to capture everything from wide angle to telephoto. The superb build quality, characteristic anamorphic style, and low pricing all combined to provide additional creative composition options. Squeezed at 1.33x for a 2.4:1 aspect ratio. Standard 16:9 video is shot with normal spherical lenses. SIRUI anamorphic lens compresses the image horizontally 1.33 times thanks to a cylindrical optical element in the front. When you desqueeze the finished image, you'll get an ultra-wide CinemaScope 2.4:l aspect ratio.Blue Lens Flares and Oval Bokeh BallsThe elliptical highlights and blue light streaks generated by the SIRUI anamorphic lens provide enough of anamorphic feel to your footage, adding a touch of magic.Focal Lengths in Detail.MARS comes with a set of four focal lengths that cover the most significant focal lengths for shooting a project. Videographers will have more control over numerous settings with this lens combination.T-Stops with precisionThe lens set has declicked aperture rings with T-stop measurements. Except for the 24mm, which has a T-stop of 2.9, the other three lenses have the same T-stop of 2.0. These fast lenses perform exceptionally well in low light.Solid ConstructionThis lens combination comes with a full metal housing and 67mm filter threading. Because of the varied mounts, the weight and size of the lenses varies slightly. For screw-in accessories like the matte box, a threaded front is included.Built-in Mod Gears The focus and aperture rings have built-in mod gears for extra smooth control. The diameter and distance between the focus ring and the aperture ring of each lens are designed the same to save you the effort of readjusting accessories when changing lenses.Long Throwing FocusThe four lenses are all designed with a long focus throw to allow for accurate focus pulling (the longest one reaches up to 303 degrees). You can swiftly pull focus to the desired position thanks to the graduations on both sides of the focus ring.1/4 "a screwhole. With a 1/4 "The lens can be mounted directly on the quick release plate using the screw hole at the bottom to keep the whole system balanced.Native Mount M4/3. This lens set is compatible with Z CAM BMPCC4K, Olympus, and Panasonic (certain models) cameras on Micro Four Thirds native mount. Unified native mounts make anamorphic shooting a lot easier for those who want to try it out.Drop-Proof and Waterproof Suitcase with Strength. The luggage is tough enough to satisfy an intemational standard rating of IP68, assuring strict protection from the inside to the outside, thanks to its plastic injection molding housing, high-density EVA lining, and embedded rubber ring. This suitcase allows photographers and videographers to transport their lens kit without worrying about the safety of their equipment.

Specification:
Lens Kit for Micro 4/3 mount
2.4:1 cinematic widescreen vision
1.33x crop anamorphic front element
Built in Mod Gears
Long Focus throw
1/4inch screw mount
Fast T2 aperture (35mm, 50mm, 75mm), Range T2-T16
Fast T2.9 aperture (24mm), Range T2.9-T16
Oval shaped bokeh and horizontal flaring
Create a cinematic feel in your videos
67mm filter thread
Manual focus
If you have a problem or question regarding your transaction please contact us before leaving any type of feedback. We will work with you to resolve any problem you may have.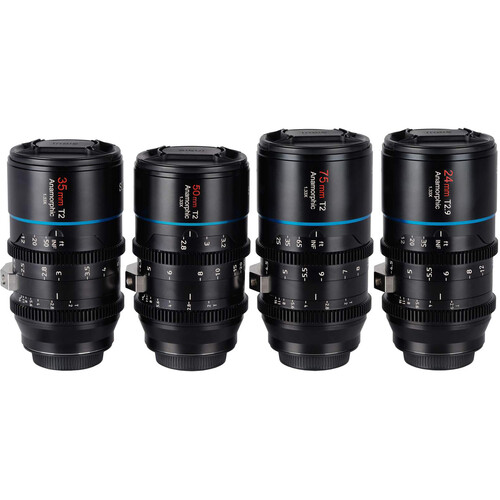 Recommended for the SIRUI MARS 1.33x Anamorphic Lens Set for Micro 4/3
Product title
$ 19.99 | $ 24.99
Vendor
Product title
$ 19.99 | $ 24.99
Vendor
Product title
$ 19.99 | $ 24.99
Vendor
Product title
$ 19.99 | $ 24.99
Vendor
Need Help while ordering?