Brand New Camera Gear Store
Buy With

100% Risk-Free!

We Will Full Refund You If You Are Unhappy With Your Purchase!
Sirui K-40II Ball Head
Product Description:

This CNC-machined K-40II Ball Head from Sirui is Arca-type compatible, and it includes a quick-release plate with a threaded 1/4"-20 camera mount. Safety stops located on the bottom of the plate prevent it from sliding out if the clamp is partially opened. The head's load capacity is 77.2 lb, its weight is 28.2 oz, and it is 4.9" tall. The main aluminum locking knob disengages, and it allows you to move the ball and place it at a 90° angle; the independent pan knob also unlocks, so you can rotate the head a full 360°. Tension can be increased or decreased to the main ball with its control dial located on the inside of the main knob. The three spirit levels ensure that your horizon is straight at each axis.

Specification:

Head Type: Ball Head
Base Mount: 3/8"-16 Female
Camera Mounting Screw: 1/4"-20 Male
Quick Release Plate Type: Arca-Type
Load Capacity :77.16 lb / 35 kg
Number of Bubble Levels:L 3
Friction Control:Yes
Independent Pan Lock; Yes
Material: Aluminum
Communication
If you have a problem or a question regarding your transaction, please contact us before leaving any feedback. We will work with you to resolve any problems you may have.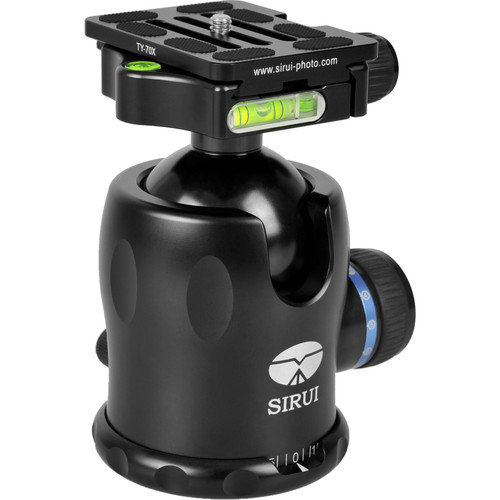 Recommended for the Sirui K-40II Ball Head
Product title
$ 19.99 | $ 24.99
Vendor
Product title
$ 19.99 | $ 24.99
Vendor
Product title
$ 19.99 | $ 24.99
Vendor
Product title
$ 19.99 | $ 24.99
Vendor
Need Help while ordering?