Brand New Camera Gear Store
Buy With

100% Risk-Free!

We Will Full Refund You If You Are Unhappy With Your Purchase!
Sirui BCT-3203 Carbon Fiber Tripod & BCH-30 Video Head
Product Description:
The Sirui BCT-3203 Carbon Fiber Tripod & BCH-30 Video Head Bundle features a professional, heavy-duty 3-section tripod with a 100mm bowl and a broadcast quality fluid head with a 39.5 lb payload. The tripod includes a ground spreader and mid-level spreader and offers a 26.5-59" working height. The head comes with two pan bars and provides stepped counterbalance and 0-7 grades of pan and tilt drag.
The BCT-3203 Professional 3-Section Carbon Fiber Video Tripod from Sirui features a 100mm bowl for compatible fluid heads and supports up to 40 lb loads. It offers a 17.5 to 63" height range and comes with a ground and mid-level spreaders, both of which are removable. The ground spreader has a rubber underside for safer and more secure placement on flat surfaces. When the ground spreader is removed, dual-spiked feet are revealed for use on soft ground.
The 10-layer carbon fiber tripod is designed with multi-tube legs for enhanced stability and reduced vibration. Each leg is adjustable individually and secured with oversized twist leg locks that are easy to handle.
For professional video applications, the Sirui BCH-30 Video Head has based on a 100mm ball mount for use on compatible tripod legs or other accessories such as sliders and jibs. Friction adjustment can be applied in 7 steps, with the 0 settings providing nearly-frictionless movement. A 13-step adjustable counterbalance can compensate for cameras weighing up to 39 pounds. The BCH-30 is controlled with dual rosette-mounted panhandles. Both pans handles easily extend for greater leverage when using heavier cameras. Extra camera-mount screws are kept in 1/4"-20 and 3/8"-16 tapped holes on the sides of the head. When vacated, these holes can also be used as accessory mounting points. The calibrated camera platform secures the camera plate with dual locks, preventing the camera from accidentally falling off the head during adjustment. To save time when balancing your camera, the platform is etched with calibrated measurements. Aluminum alloy is used in construction for durability while maintaining a manageable weight.

Specification:
BCT-3203 Carbon Fiber Tripod

Head Mount Type: 100 mm Bowl
Load Capacity :40 lb / 18.1 kg
Maximum Working Height: 63" / 160 cm
Minimum Working Height: 17.5" / 44.5 cm
Closed Length: 29.5" / 75 cm
Materials: Carbon Fiber
Weight: 9.7 lb / 4.4 kg
Leg Lock Type: Rotating Locking Lever
Independent Leg Spread: Yes
Leg Sections: 3
Leg Diameter: 1" / 25 mm
Feet Features : Spiked
Spreader: Mid-Level, Ground (Included)
BCH-30 Video Head

Camera Plate Features Sliding Balance Plate
Base Mount 100 mm Half Ball
Drag Control 7-Step
Vertical Tilt +90° to -90°
Communication
If you have a problem or a question regarding your transaction, please contact us before leaving any feedback. We will work with you to resolve any problems you may have.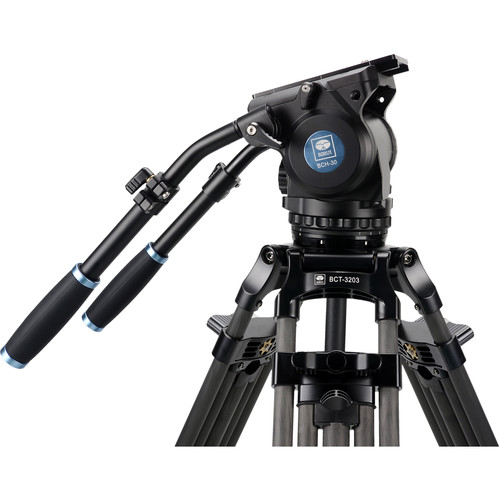 Recommended for the Sirui BCT-3203 Carbon Fiber Tripod & BCH-30 Video Head
Product title
$ 19.99 | $ 24.99
Vendor
Product title
$ 19.99 | $ 24.99
Vendor
Product title
$ 19.99 | $ 24.99
Vendor
Product title
$ 19.99 | $ 24.99
Vendor
Need Help while ordering?