Brand New Camera Gear Store
Buy With

100% Risk-Free!

We Will Full Refund You If You Are Unhappy With Your Purchase!
Sirui BCH-20 Video Head
Product Description:

The Sirui BCH-20 Video Head is built on a 75mm ball mount for use on compatible tripod legs or other accessories like sliders and jibs for professional video applications. There are three levels of friction adjustment, with the 0 setting offering practically frictionless movement. For cameras weighing up to 22 pounds, a 7-step adjustable counterbalance can compensate. The two rosette-mounted pan handles operate the BCH-20. When utilizing heavier cameras, both pan handles may easily be extended for more leverage. In 1/4"-20 and 3/8"-16 tapped holes on the sides of the head, extra camera-mount screws are maintained. When these holes are empty, they can be used as auxiliary mounting points. The camera plate is secured by two locks on the calibrated camera platform, preventing the camera from slipping off the head during adjustment. The platform is carved with precise measures to save time while balancing your camera. The construction is made of aluminum alloy for durability and a controlled weight.For panning and tilting, there are three levels of friction control, with the zero position providing near-frictionless operation. 7 counterbalance adjustment levelsThere are two levels of bubbles: an illuminated base bubble level and a second top bubble level. Dual-Security Lock Quick Release Platform: Keeps the camera from falling off the head while it aligns for proper balance. Calibrated Quick Release Platform: Use the etched scale on the platform to easily reposition your equipment. Handles that telescopically extend. Integrated threads store extra 1/4" and 1/8" screws. 75mm ball mount is built in. Pan and tilt-lock knobs are separate. Includes a quick-release plate

Specification:
Payload: 22 lb / 10 kg
75mm Half Ball
Stepped Counterbalance
0 to 3 Grades of Tilt & Pan Drag
Sliding Balance Plate
L/R Pan Handle Rosettes
1/4"-20 and 3/8"-16 Accessory Sockets
Illuminated Bubble Level
If you have a problem or question regarding your transaction please contact us before leaving any type of feedback. We will work with you to resolve any problem you may have.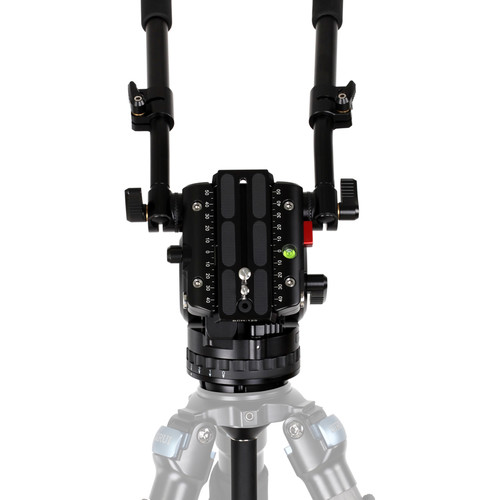 Recommended for the Sirui BCH-20 Video Head
Product title
$ 19.99 | $ 24.99
Vendor
Product title
$ 19.99 | $ 24.99
Vendor
Product title
$ 19.99 | $ 24.99
Vendor
Product title
$ 19.99 | $ 24.99
Vendor
Need Help while ordering?