Brand New Camera Gear Store
Buy With

100% Risk-Free!

We Will Full Refund You If You Are Unhappy With Your Purchase!
Nitecore TUP 1000 Lumen Rechargeable EDC Flashlight (Black)
Product Description:
NITECORE is revolutionizing the everyday carry gear by packing more technology and power into its new keychain flashlight. Fitting comfortably in your pocket or keychain, the NITECORE TUP delivers a super bright 1000 lumen beam with distances up to 197 yards. With dual side switches, the TUP allows users to quickly switch between 5 brightness levels with direct access to Turbo. The TUP features a Daily Mode that provides constant illumination for long time use, while the Demo Mode powers off after 30 seconds of no operation to conserve the battery. Easily switch between two modes by pressing both the power and mode button simultaneously. The TUP showcases an OLED display providing key information including brightness level, mode, lumen, battery voltage, runtime and lockout status. It is USB rechargeable with a 1200mAh li-ion battery, which allows this powerful keychain flashlight to reach a maximum runtime of 70 hours on a single charge. The TUP prevents accidental activation with a full lockout mode that disables both the power and mode button. To unlock the flashlight, recharge or long press the power button until the display shows an unlock icon.

Specification:
• LED: CREE XP-L HD V6
• Maximum Brightness: 1000 lumens
• Peak Beam Distance: 197 yards
• Peak Beam Intensity: 8130 cd
• IP Rating: IP54
• Impact Resistance: 1 m

Brightness & Runtimes:
• Turbo: 1000 lumens / 15 min
• High: 200 lumens / 3 hr
• Mid: 65 lumens / 9 hr 45 min
• Low: 15 lumens / 19 hr
• Ultralow: 1 lumen / 70 hr
• Dimensions: L-2.76"xW-1.16"xH-1.16"
• Weight: 1.87oz

Features:
• Produces a max output of 1000 lumens with 197 yards of throw
• 5 distinct brightness levels suitable for any task
• Direct access to Turbo and Ultralow modes
• Built-in Li-ion battery is micro-USB rechargeable
• Easy to use dual side switch design
• OLED real-time display for lumens, battery voltage, runtime, and more
• Total reflective optic lens produces a uniform and soft light
• 2 lockout modes to prevent accidental activation
• Included metal keyring can withstand 66 pounds of weight
• Impact resistant up to 1 meter

Communication
If you have a problem or a question regarding your transaction, please contact us before leaving any feedback. We will work with you to resolve any problems you may have.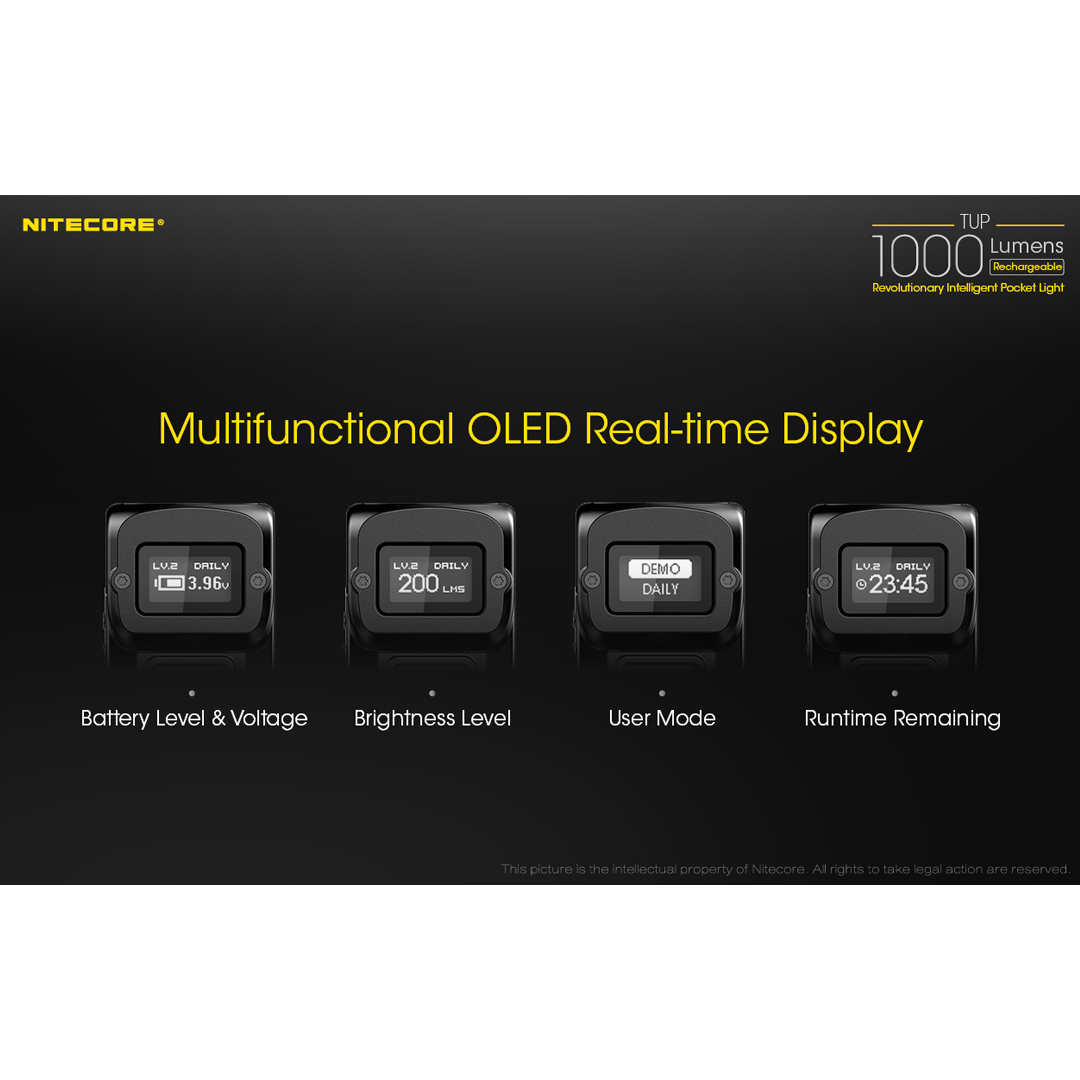 Recommended for the Nitecore TUP 1000 Lumen Rechargeable EDC Flashlight (Black)
Product title
$ 19.99 | $ 24.99
Vendor
Product title
$ 19.99 | $ 24.99
Vendor
Product title
$ 19.99 | $ 24.99
Vendor
Product title
$ 19.99 | $ 24.99
Vendor
Need Help while ordering?