Brand New Camera Gear Store
Buy With

100% Risk-Free!

We Will Full Refund You If You Are Unhappy With Your Purchase!
Nitecore TM20K 20,000 Lumen Rechargeable Flashlight
Product Description:
The NITECORE TM20K is the brightest of the Tiny Monster series yet still remains compact thanks to the new technology and improved design. This high performance flashlight is a true factotum of illumination with 19 LEDs for a powerful 20,000 lumen max that is astonishing output through the darkness. The TM20K can be used for anything from outdoor activities, industrial uses, personal safety, search and rescue. The TM20K is completely ambidextrous and provides streamlined controls for all brightness modes, instant turbo, instant strobe, as well as a dedicated spotlight, and floodlight mode all in the palm of your hand.No need to waste money on batteries, the TM20K has a rechargeable 9600mAh Li-ion battery built-in. The TM20K is USB-C rechargeable, and comes with a charging cable included. It is even capable of quick charge (QC) technology to speed up the charging process. When the light is connected to a QC power source, the battery status indicator will blink rapidly and the light will be fully charged in 4.5 hours. Finally, the TM20K comes standard with all of the advanced features you expect on NITECORE flashlights such as IP68 rated waterproof, advanced thermal regulation, mode memory, and lockout mode.

Specification:
LED:
•19 x CREE XP-L HD LEDs
• Maximum Brightness: 20000 lumen
• Peak Beam Distance: 317 yards
• Peak Beam Intensity: 22200 cd
• IP Rating: IP68
• Impact Resistance: 1 m

Brightness & Runtimes:
• Turbo: 20000 Lumens / - -
• High: 3,100 Lumens / 45min
• Mid: 1,900 Lumens / 1hr 45min
• Low: 1,050 Lumens / 4hrs 15min
• Ultralow: 320 Lumens / 13hrs
• Spotlight: 1,200 Lumens / 3hrs 30min
• Floodlight: 1,800 Lumens / 2hrs
• Strobe: 20,000 Lumens / - -
• Dimensions: L-5.73"xW-1.97"xH-1.97"
• Weight: 14.89oz

Features:
• Max output of 20,000 Lumens
• Built-in 9,600mAh rechargeable battery
• USB-C Quick Charging
• CNC Machined Unibody Design
• Strobe, Spotlight, and Floodlight modes
• Lockable to prevent accidental usage
• IP68 Waterproof
• Convenient Turbo Mode toggle

Communication
If you have a problem or a question regarding your transaction, please contact us before leaving any feedback. We will work with you to resolve any problems you may have.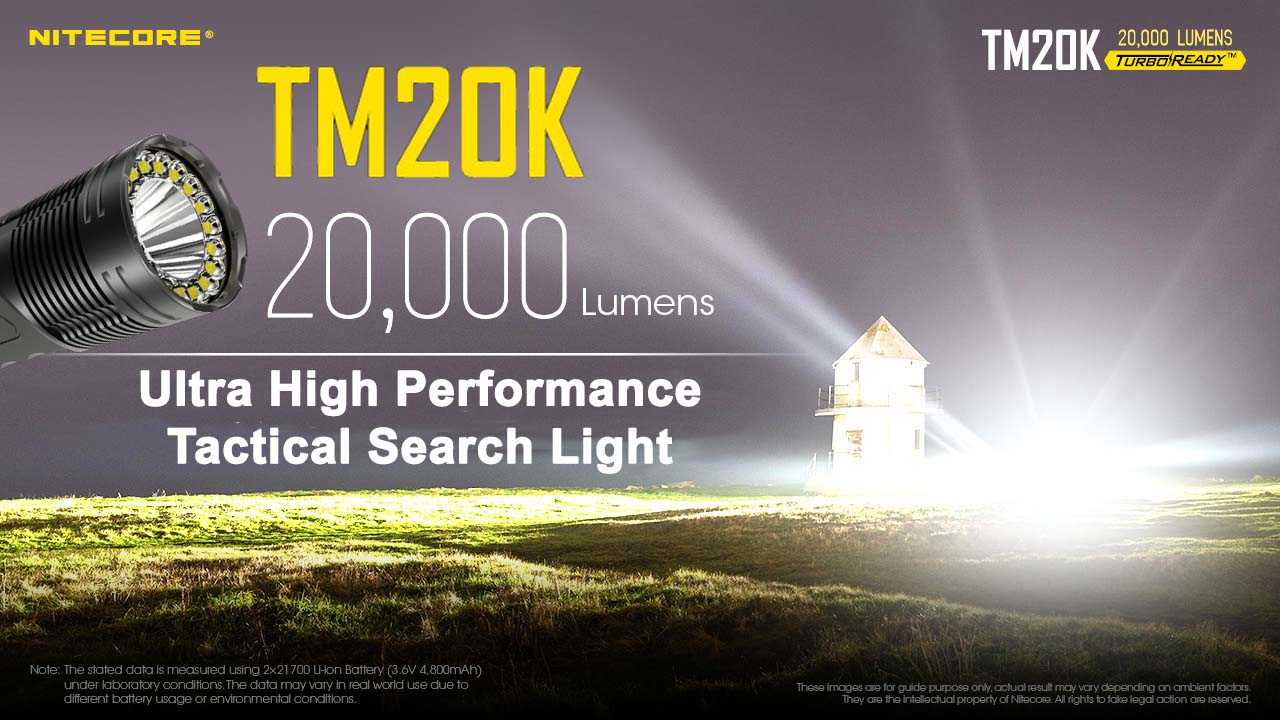 Recommended for the Nitecore TM20K 20,000 Lumen Rechargeable Flashlight
Product title
$ 19.99 | $ 24.99
Vendor
Product title
$ 19.99 | $ 24.99
Vendor
Product title
$ 19.99 | $ 24.99
Vendor
Product title
$ 19.99 | $ 24.99
Vendor
Need Help while ordering?