- Money Back Guarantee
- 10 Year Warranty
- Free Shipping
Leofoto LS-365C + PG-1 Pro Carbon Tripod with PG-1 Gimbal Head Kit Camo Kit
Product Description:

PG-1 Gimbal Head was created to provide the ultimate marriage between size, weight and functionality. The junior is able to support any lens, yet is portable enough to be backpacked through the jungle at just 2.20 lbs! The truss design manufactured out of rigid T6061 Aluminum required the LEOFOTO team of engineers to program the CNC machines to their limits. The Gimbal features an independent Pan and knobs large enough to be handled with gloved hands. An Arca Compatible cradle clamp nestles your camera plate or long lens mount with precision and security. The fluid-type movements will allow you to quickly control your camera and lens combo as if it were an extension of your body. The bottom of the PG-1 is a standard 3/8-16 threaded tripod adapter. Pull oil the angle stop, raise the leg to your desired angle, slightly press the angle stop and it will ratchet into place and lock automatically. to induce the angle stop automatic system, please pull out the angle stop completely and raise the Ige to a horizontal position until the angle stop engages. Move the legs to your desired position and the angle stop will ratchet automatically. The removable feet at the base of each pod can be replaced by steel claws,spikes and other accessories to facilitate the best traction for a given terrain.Spikes and vibration reduction teardrop feet are included in the package.

Specification:
Max. height: 1520mm
Min.Height: 80mm
Folded length: 480mm
Leg Section : 5
Max load: 20kg
Weight: 1.77kg
Base diameter: 60mm
Height: 255mm
Weight: 1kg
Max. load: 25kg
If you have a problem or question regarding your transaction please contact us before leaving any type of feedback. We will work with you to resolve any problem you may have.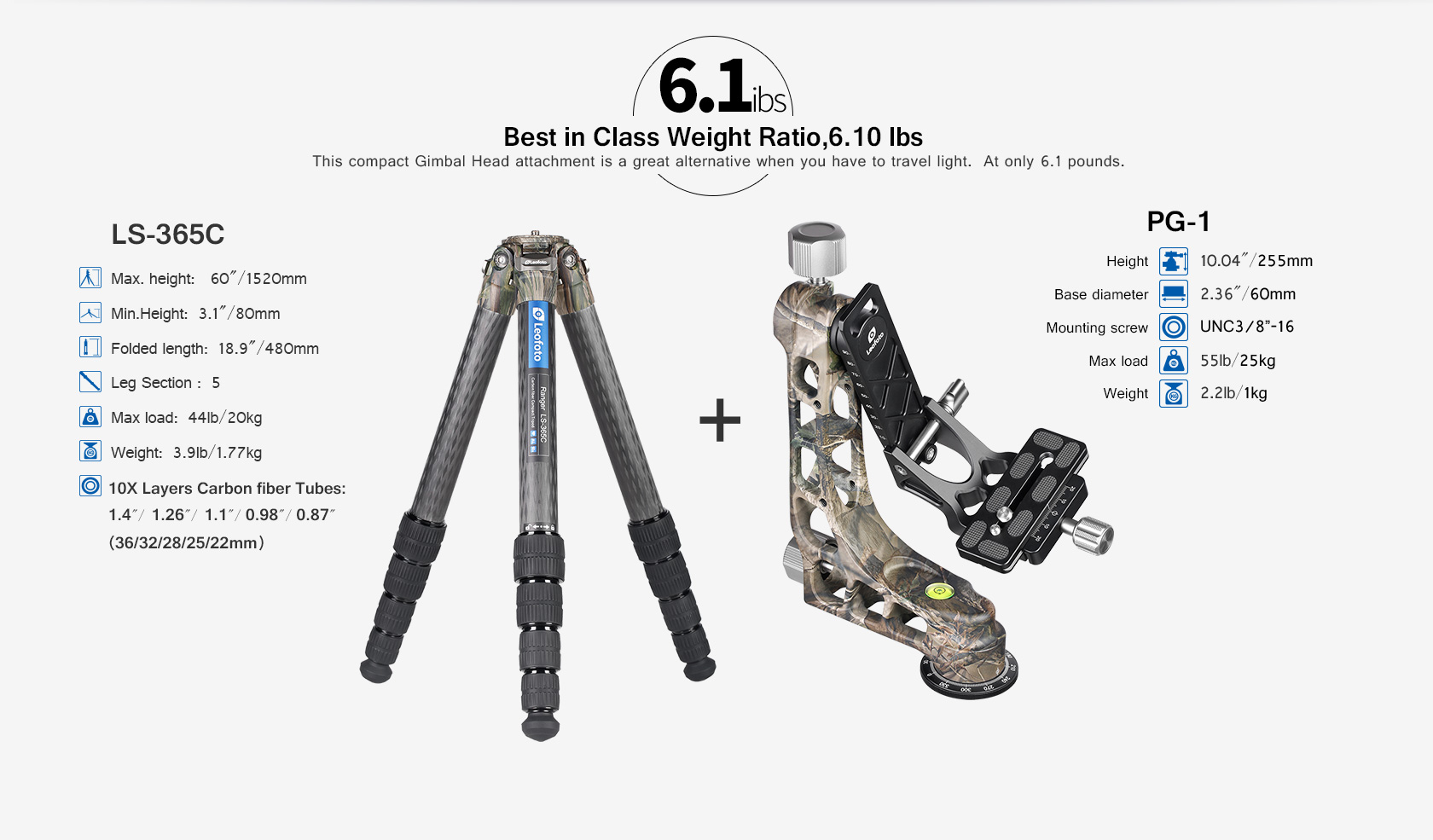 ,
Recommended for the Leofoto LS-365C + PG-1 Pro Carbon Tripod with PG-1 Gimbal Head Kit Camo Kit
Product title
$ 19.99 | $ 24.99
Vendor
Product title
$ 19.99 | $ 24.99
Vendor
Product title
$ 19.99 | $ 24.99
Vendor
Product title
$ 19.99 | $ 24.99
Vendor
Need Help while ordering?