- Money Back Guarantee
- 10 Year Warranty
- Free Shipping
Leofoto LS-364C Professional Light Weight Carbon Fiber Tripod Kit
Product Description:

The Leofoto LS-364C Compact Carbon Fiber Tripod is a 4-section support with 10x Toray carbon fiber tubes, making it lightweight 3.9-pound support with a load capability of 55 pounds. The 7075 aluminum parts are CNC machined and hard anodized, giving them a scratch- and scuff-resistant finish. The twist leg lock system is readily opened with a quarter turn, allowing the LS-364C to be extended to a maximum height of 58 inches ". The tripod's three adjustable leg angles allow the legs to splay out to a height of 3.1 inches ", and its independent leg spread allows it to level itself on uneven ground. The tripod's CNC-milled aluminum apex spider has been hollowed out to save even more weight, and two integrated 1/4"-20 threads are included "-20 accessory sockets are built into the spider's edge and underside for mounting picture or video accessories. A carabiner-style weight attachment is included to help stabilize the tripod by adding weight. The folded length of this lightweight and compact tripod is 21.3 inches "It's small enough to fit in a large shoulder bag, backpack, or carry-on luggage.

Specification:
Load Capacity: 55 lb
Maximum Height: 58"
Minimum Height: 3.1"
Folded Length: 21.3"
Leg Sections: 4
Weight: 3.9 lb
10x Carbon Fiber Legs with Twist Locks
Three Variable Leg Angles
Hard-Anodized CNC-Machined 7075 Aluminum
2x 1/4"-20 Threaded Accessory Sockets
If you have a problem or question regarding your transaction please contact us before leaving any type of feedback. We will work with you to resolve any problem you may have.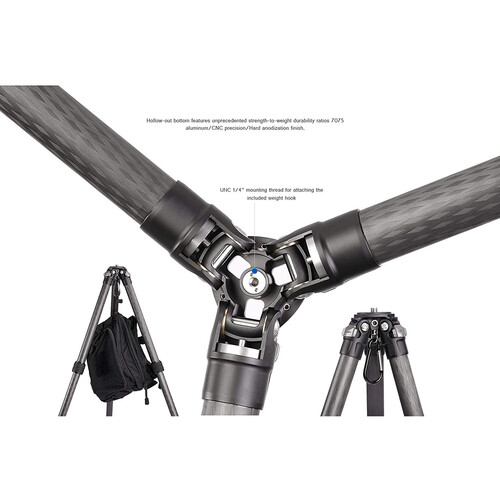 ,
Recommended for the Leofoto LS-364C Professional Light Weight Carbon Fiber Tripod Kit
Product title
$ 19.99 | $ 24.99
Vendor
Product title
$ 19.99 | $ 24.99
Vendor
Product title
$ 19.99 | $ 24.99
Vendor
Product title
$ 19.99 | $ 24.99
Vendor
Need Help while ordering?