- Money Back Guarantee
- 10 Year Warranty
- Free Shipping


Leofoto LS-285CEX Pro Traveler Carbon Tripod with Leveling Base - LS-285CEX
Product Description:

The Leofoto LS-285CEX belongs to the Ranger series and has a maximum working height of 146.8 centimeters. Unique to this Ranger tripod is the leveling base, which makes the tripod ideal for panorama work and videographers. The folded length is 47.6 centimeters and the minimum working height is 10 centimeters. This Ranger tripod with leveling base has a carrying capacity of 8 kilograms and weighs 1.35 kilograms. The tripod comes with a leveling base, a carrying bag, multitool and spikes. Perfect for those looking for a tripod suitable for video or panorama photography! The LS-285CEX Ranger Series Carbon Fiber Tripod from Leophoto is distinguished from other Ranger Series carbon fiber tripods by its built-in leveling base. The leveling base function allows for a maximum tilt of 15 degrees, making this tripod perfect for video and panorama photography. Without having to adjust the legs individually, the tripod head may be changed for horizontal orientation after the tripod has been positioned for the shoot.

Specification:
Load Capacity: 17.6 lb
Maximum Height: 57.8"
Minimum Height: 4.0"
Folded Length: 18.7"
Leg Sections: 5
Weight: 2.98 lb
10-Layer Toray Carbon Fiber Tubes
Leveling Base Range: ±15°
Twist Lock Joints
Carrying Case
If you have a problem or a question regarding your transaction, please contact us before leaving any feedback. We will work with you to resolve any problems you may have.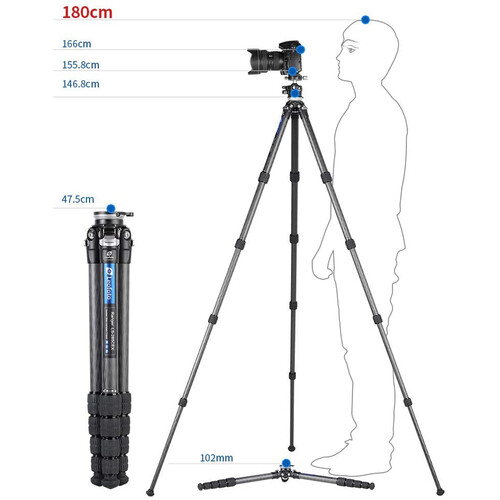 Recommended for the Leofoto LS-285CEX Pro Traveler Carbon Tripod with Leveling Base - LS-285CEX
Product title
$ 19.99 | $ 24.99
Vendor
Product title
$ 19.99 | $ 24.99
Vendor
Product title
$ 19.99 | $ 24.99
Vendor
Product title
$ 19.99 | $ 24.99
Vendor
Need Help while ordering?