- Money Back Guarantee
- 10 Year Warranty
- Free Shipping
Leofoto LN-364C Systematic Bowl Compatible Carbon Fiber Tripod with YB-75LK Leveling Base
Product Description:
The Leofoto LN-364C Carbon Fiber Tripod has 10 layers of Torayca carbon fiber, used to construct its legs, along with 6061 and 7075 CNC machined aluminum hardware. The tripod has a load capacity of 77.2 lb, which is suitable for small mirrorless, DSLR, and large format cameras. The leg's 4 sections unlock via twist locks, and the support extends to a maximum working height of 63". Because of its 4 sections, the tripod folds down to a compact 22.8", and only weighs 5.7 lb.
At the yoke of the tripod, it features a 75mm video bowl adapter, which is compatible with video heads that have the same size half ball, and a safety release button, which prevents the top plate from falling out, is located on the side of the yoke. In addition, the rubber feet unscrew and can be replaced by stainless-steel spikes that can be driven into snow or soft ground to stabilize the support.
Ideal for flat base tripod heads, the YB-75LK Leveling Base with Long Handle and Arca-Type QR Clamp from Leofoto is designed to help users level a standard tripod or fluid head in order to maintain level horizons and reduce time-consuming post-processing corrections. Use of the leveling base requires a 75mm receiver or adapter.
The leveling base features lightweight aluminum construction, which adds a negligible 13 oz to your existing tripod setup. The base is topped by the widely used Arca-type quick release.

Specification:
LN-364C:

Load Capacity: 77.2 lb
Maximum height: 63"
Folded Length: 22.8"
Leg Sections: 4
Weight: 5.7 lb
Twist Locks
10 Layers of Torayca Carbon Fiber
6061 and 7075 Aluminum Machined Parts
Stainless-Steel Spikes and Rubber Feet
75mm Video Bowl Included
YB-75LK Leveling Base:

Arca-Type Quick Release Receiver Clamp
Precision Scale for Positioning
Diameter: 75mm
Bubble Level
Communication
If you have a problem or a question regarding your transaction, please contact us before leaving any feedback. We will work with you to resolve any problems you may have.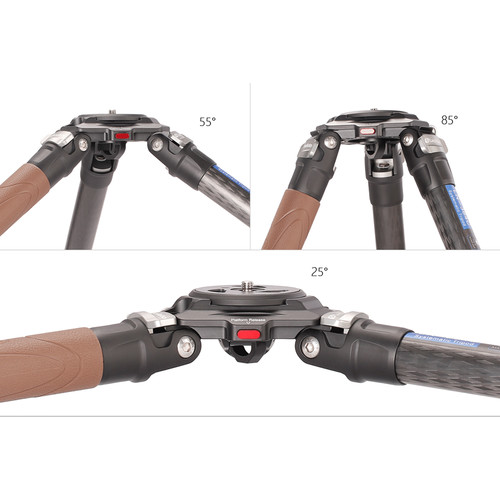 Recommended for the Leofoto LN-364C Systematic Bowl Compatible Carbon Fiber Tripod with YB-75LK Leveling Base
Product title
$ 19.99 | $ 24.99
Vendor
Product title
$ 19.99 | $ 24.99
Vendor
Product title
$ 19.99 | $ 24.99
Vendor
Product title
$ 19.99 | $ 24.99
Vendor
Need Help while ordering?