Nowadays, if you're filming with a mirrorless camera or high-end cinema camera, you'll probably be using a few accessories. It's useful to know which accessories are important and why they're used.
Sirui has brought to you some video accessories that is a must have for your photography/videography. The price ranges from
$139.90 USD to $189.90 USD
. This price includes shipping and warranty. 
Let's dive deep to know more about each accessories.
Starting with the
Sirui SR - 66C Center Column
. The price of this Center Column is
$139.90 USD
.
Gain a height advantage with the SR-66C Center Column from Sirui, which is compatible with the SR-3004, SR-3204, and SR-3203 tripods. The center column replaces the top plate of the tripod and locks into place with its blue anodized mounting ring. With the center column in place, it unlocks via its twist locks by turning a half turn and extends the 2-stage column's height from 21.5 to 23.6". Even with the column fully extended, the 10x carbon fiber reduces vibrations, which would otherwise cause camera shake. At the top of the column, it features a reversible 1/4"-20 to 3/8"-16 stud, and at the bottom is a counterweight hook to hang a small sandbag or bag for added weight and stability.
Next is the
Sirui VS-60 Photo & Video Slider
. The price of this video slider is
$142.90
. Add smooth, quiet moves to your video capture with the 26" Video Slider from Sirui. This lightweight slider weighs only 2.2 lb yet supports loads up to 22 lb, making it suitable for DSLRs, mirrorless cameras, small camcorders, and action cameras that use a 3-prong mounting system or require an optional adapter. Two adjustable Arca-Swiss style plates slide along the bottom of the track for optimal positioning and enable you to quickly mount the slider using one or two tripods with either an Arca-Swiss style mounting clamp or 1/4"-20 threads.
This compact aluminum slider features adjustable feet and a bubble level to accommodate uneven surfaces. Additional features include adjustable brake knobs that can be used to limit your sliding distance and a carriage with a 3/8"-16 head/camera screw. Use the included padded carrying case to safely transport the slider between locations.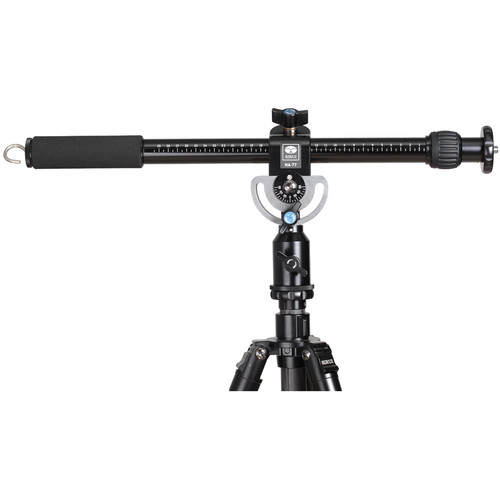 Last is the
SIRUI HA-77 Retractable Arm
. The price of the
HA-77 Retractable Arm is $189.90 USD
and the price of
HA-77 Retractable Arm with Boom Arm is $199.90 USD
. 
The HA-77 Horizontal Arm from Sirui is a telescoping cross arm that can be combined with a tripod or stand to create a miniature camera boom. Its total 30.3" of length is provided by a two-section tube that rests on top of a tripod head, which features 360° of independent rotation. The tube and the head are connected by a fulcrum, which enables 90° of upwards or downwards tilt that can be locked into place. This allows an attached camera to be easily raised toward an elevated subject or over a scene. For subjects along the ground, the HA-77 Horizontal Arm can be used to obtain low angles while its user stands comfortably behind the camera.
This horizontal arm has a load capacity of 11 lb and is compatible with tripods or support systems that feature a 3/8"-16 mount. Thumbscrew locks are positioned on the HA-77 Horizontal Arm's tripod head, fulcrum, and the clamp that holds its telescoping, two-section tube on the fulcrum. By loosening each of these thumbscrew locks, the tripod head can be swiveled, the fulcrum tilted, and the two-section tube pushed toward or pulled away from the subject. Additionally, a twist lock on the two-section tube allows for rapid deployment of its second section.
To precisely position and extend the two-section tube, its first section features clearly visible hatch marks engraved at 0.5cm intervals from 0-30cm, the second section includes hatch marks along its length from 0-27cm that are also engraved at 0.5cm intervals, while the fulcrum's 90° upwards or downwards tilt can be set according to 10° intervals. For use as a miniature boom, the front end of the HA-77 Horizontal Arm on the two-section tube's second section includes a flat plate with a reversible mount that can accommodate a camera or tripod head with a 3/8"-16 or 1/4"-20 female accessory thread. At the rear end of the horizontal arm on the two-section tube's first section, a removable foam-padded handle with a ballast hook provides a secure and comfortable grip as well as the ability to counterbalance any items placed at the front of the horizontal arm.
This wraps up the intro part of the Accessories. Now, we will step back and give you some space to make your decision on which one you need and want to buy.